We received a letter from the US that encouraged us.
It has been more than two years since we lost customers from overseas during the Coronavirus crisis. We were very sad and lost confidence in our ability to continue our guesthouse.
This letter made me realize that there were guests who were happy to see us. It also gave us the courage to continue to provide a comfortable space for our guests.
With gratitude, I would like to share her blog with you.
a love story.
On this Feast of Saint Valentine, I want to share a love story that happened on my trip to Japan in 2019.

During the Kyoto leg of my trip, I had the fortunate misfortune of getting bumped from my original lodging. Misfortunate because it caused a scramble for a place to sleep in a foreign country. Fortunate because it led me to "Mama" & "Papa". Mama & Papa own and run a guest house for travelers.

Mama and Papa were exactly what I didn't know I needed. Already the people of Japan, and especially Kyoto (my experience!), were blowing my mind with how friendly they were but Mama and Papa were next level. And although the people of Japan were welcoming, they were generally very formal. And so Mama was a complete outlier in respect to her gregarious nature with her guests.

Mama was a flight attendant for many years before retiring just a few years before to open a guesthouse in Kyoto with Papa. I had the best three nights in Japan there – and my entire trip to Japan was incredible so that's saying a lot. Mama and I hit it off right away and I felt really comfortable asking freely about so many things that I was curious about in Japan and her life. And she had a lot of questions for me about the US, Canada and my life journey as well.
One afternoon she asked me to help her edit (and put in English) some of her menu items to add more healthy food/vegan/veggie options as she wanted more foreigners to visit her guesthouse. I felt honored to help Mama.

One morning I was meeting a videographer at Nanzen-ji temple to get some fun footage of my time there and was running behind to meet him. Mama and Papa knew I was headed north to meet him and Papa was concerned about me showing up late. The Japanese are good about keeping time!

While Mama could speak English very well, Papa didn't speak a word. Yet, Papa and I had a great energy with one another and our communication was flawless. In his concern that morning at breakfast, he said he would get his car ready to drive me there. Totally not called for to drive a guest to a video shoot! Yet, I was grateful for this offering and felt so touched by it. Papa and I had a blast on the drive over.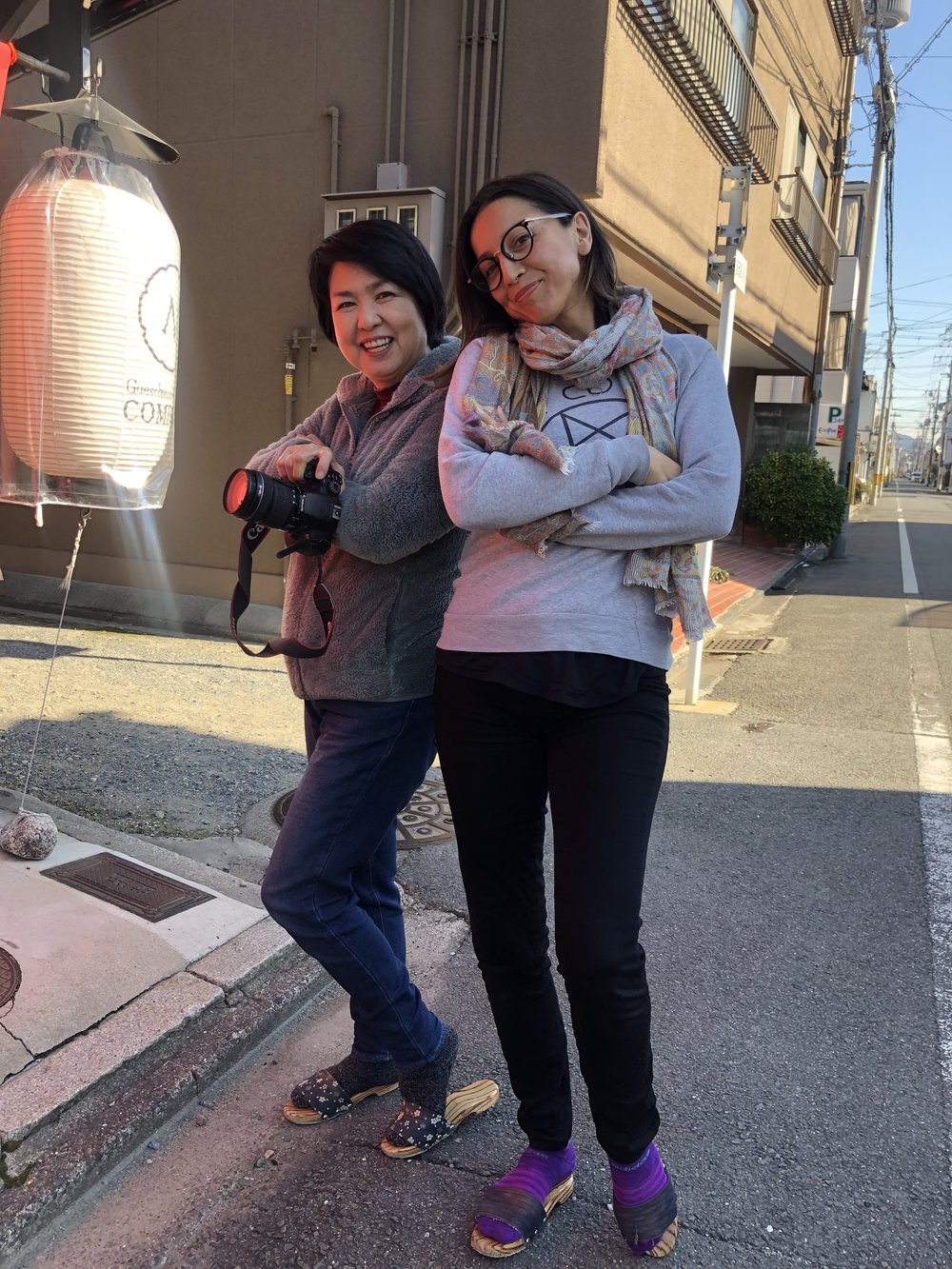 Then later on that same day, Papa showed me how to create Kanji (a Japanese writing system) and then Mama and I ended the day with a couple of glasses of saki. This was my favorite day of my entire trip and I wanted it to last forever. I was falling so deeply in love with these two lovely people and I could tell they were at least getting used to me!

The following morning was my final morning and as I was heading to Osaka with a stop in Nara. I wasn't ready to leave Kyoto and I wasn't ready to leave Mama and Papa.

We stood outside their guesthouse and took some photos and hugged it out (see images below). I talked about how I'd be back the next year — not knowing what 2020 had instore. As I walked away towards the train station, they stood outside waving me on. And as I was about to turn the bend down the block from them, I turned around once more and they were still standing there waving to me. Even though this prolonged wave goodbye was such a simple gesture, my heart exploded with joy. It was right out of a hallmark movie. Of course when I got on the train, I cried. I cried for the incredible experience that I was given.
And I cry again writing this because I have this wonderful memory. I'm immediately returned to all of the moments I had with these wonderful people and place. I feel abundant love that is only regenerative with time for this memory. I often think of them and that time when I need a boost. I know I'll make it back there again. It'll just have taken longer.

There is so much love to give and receive in the world. Even in moments that seem unfortunate, good fortune and love is often just around the bend. I wish you a lot of love today and everyday.
Big LOVE, Jess
–https://www.jessicasandhu.com/